With more than a million published news, almost 110,000,000 visits per year and 10,000,000 unique visitors, Point.md ranks high among the digital media in Moldova. Today, the largest news portal in the country celebrates its 17th anniversary.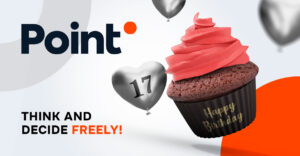 Point.md is always the first to bring you the most important news, using verified sources. The portal always has the most recent coverage of the most important events in the country and in the world. Users from 144 countries have chosen it as their source of information.
Point.md news, exclusive materials and other information are available in the desktop and mobile versions. After updating the site and the Point News apps for iOS and Android, it has become even more convenient to find out about the current events.
In addition, there are filters that allow you to customize the news feed by sources, based on personal priorities – Russia/Ukraine/Moldova/International.
Facebook, Instagram, Telegram, Ok, VK, Twitter, Tik-Tok pages give everyone more access to the news, so everyone can learn about the important things in the most convenient way.
Point.md evolves and changes, but what remains constant is our commitment to our core values: We give you the power of awareness so you can think and decide freely!