What is IT and how to find your place in it? Our colleagues Marina Kirova, Product Manager of eKassa and eAsig, and Vladimir Spivachenko, Graphic Designer, talked about this to the students from Mihail Guboglo Lyceum in Ceadir-Lunga.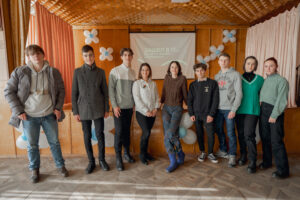 Gone are the days when residents of Moldova had to go far and wide and agree to oppressive conditions just to get a job with an acceptable salary. With the advancement of IT, today's high school students have an ocean of choice – they can find a job to their liking with good wages, and they can choose where and how they want to live.
But it's essential that the young people understand how this ocean works. This is what Marina and Vladimir helped them figure out. They were speakers on behalf of Simpals company, which supported the program of the Main Department of Education of Gagauzia and Tekwill Comrat – IT Career Orientation.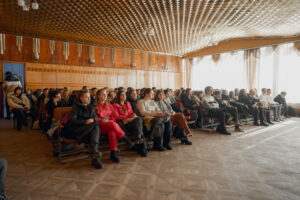 The meeting room was full, and most importantly, Marina and Vladimir managed to ignite the future graduates. "Cool guys from the leading IT-companies in Moldova share their experience with young people from Gagauzia, who are about to choose their future profession! – This is what the students told us about this meeting. – Thanks to Simpals team for the experience, thanks to Tekwill Comrat represented by Mitioglo Liubov for the cool ideas and exclusive meetings!"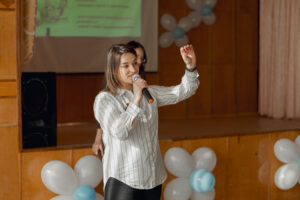 "It was the first time I participated in such an event, and I got a lot of impressions, – says Marina. – I saw their eyes, and it was awesome! There were some very interested guys there, but also there were some who couldn't yet figure out if they belonged to IT. I hope we made a lot of things clear".
Marina explained to the students what IT looks like as a whole: "Out of the huge number of directions in IT I singled out 4 most promising ones: development, design, management and administration. And I tried to reveal what qualities of a person are so important for everyone. After all, the most significant thing is to choose a profession in which you will realize yourself perfectly. I just chose the direction that suits me, and my work is a constant growth, new knowledge, new people. That's what I love".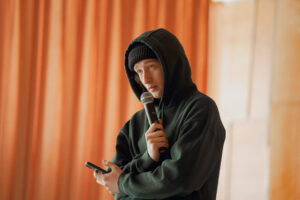 "We had to answer questions that I didn't raise for myself when I was their age, – Vladimir says. – They're worried about whether neural networks will drive people out of our segment. Yes, that should be taken into account, though I think that neural networks will not completely replace people, and even in five years the same IT directions as now will be relevant. Along with this, the students had a lot of questions, the answers to which seem obvious to me, and for them it's all about discovery. I am happy that we were able to help them better understand IT jobs; I do hope it will help them".