Motivated, committed, persistent, and sporty – if you haven't had a chance to meet him yet, we'd like to introduce you to the director of Sporter, Maxim Zorchin!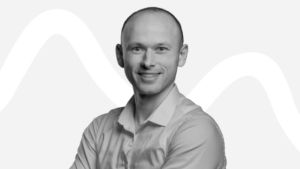 Maxim joined Simpals in November. He likes to learn new things and prefers to aim for a broad range of opportunities.
As a team player, he likes working together to win, get stronger and change the world for the better. This is important, because Sporter's mission is to promote physical fitness, top-performance sports and healthy lifestyles.
All of this is familiar to Maxim because since the age of 6, he was professionally engaged in table tennis. He is a multiple national championship winner and international contestant. Now he is actively involved in running and swimming, has completed half-marathon and marathon distances, and has repeatedly participated in Olympic distance of the Triathlon Cup. And the main thing is that he strives to motivate and "contaminate" people with his love for sports. He's our kind of guy! We're happy to have such a colleague.