Last Friday, B2G Department Director Lidia Demeaniuc attended the "Business Digitalization" conference and delighted the audience with a presentation of the digital tools developed by Simpals for B2G.
The possibility to work with government agencies in a more transparent way aroused the interest of entrepreneurs from both banks of the Dniester. The business forum took place in Tiraspol and was organized by the Chambers of Commerce and Industry of Transnistria and Moldova. This experience proved once again that digitalization removes barriers and unites.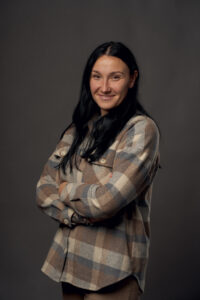 Although Lidia Demeaniuc gave her speech in Chisinau, it was listened to with great interest by all, because it was about products that really reduce costs, avoid bureaucracy and help businesses grow.
The first project presented was Achizitii.md, a platform that made public procurement go digital and ensured maximum objectivity in the procedure for selecting bidders. "This project was an example of productive cooperation between government agencies and private enterprises," Lidia stated.
Another project, ID.md, was created to optimize the document flow within Simpals. The idea was implemented through the msign online signature service. This technology has streamlined several processes and opened the door to mobility for entrepreneurs, who can now operate from anywhere in the world.
Simpals is currently developing a project that will improve communication between businesses, consumers and the government. The E-Kassa e-cheque system will allow us to do away with piles of paper and will ensure that information on purchases is stored for 5 years on the server of the Tax Service.
Thus, for the buyer, the problem of confirming the purchase in the event of a guarantee situation will be solved. The seller will reduce the maintenance costs of the cash register. And the state will ensure transparency in the movement of goods. The prospect outlines a win-win-win situation. In addition, the environmental impact will be reduced thanks to virtually non-degradable cheques.
Lidia's story captured the attention of conference participants, and she assures us there's more to come: "We believe that all our projects are just the beginning of a fascinating journey called digitalization."