On June 11, the first and absolutely incredible swimming event – SONR Aquatic Day – will take place in the 50-meter pool at the Chisinau Arena. Join in, it will be fun!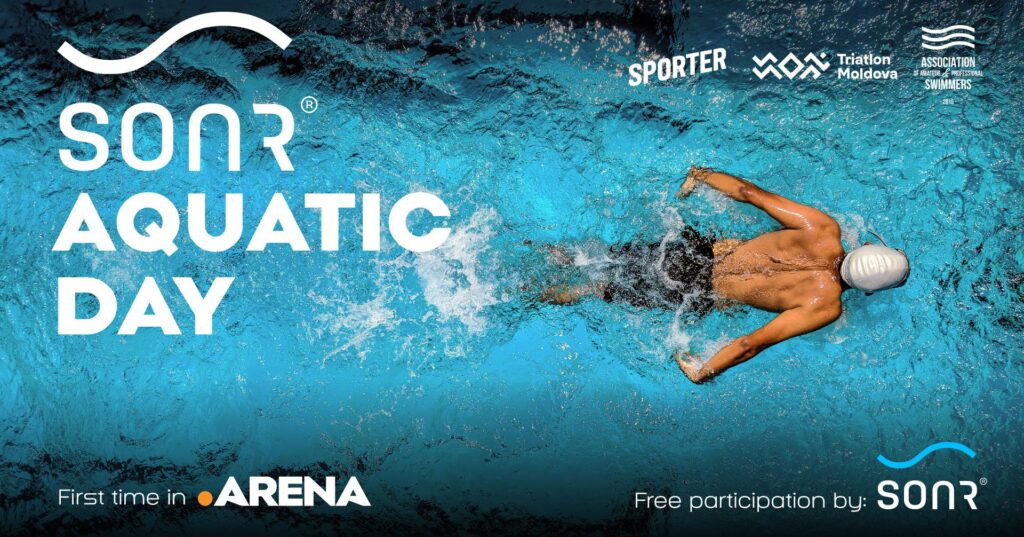 Organized by Sporter and the National Triathlon Federation of the Republic of Moldova, Aquatic Day is supported by Simpals and SONR. Having said that, it is expected that the aquatic sports day will be held at the highest level. The event is also supported by the Association of Professional and Amateur Swimmers of Moldova.
An extensive programme has been prepared for the participants and involvement in all the activities of the Aquatic Day, thanks to the financial support of SONR, will be free of charge. So, what's in store?
There will be three exciting contests. Each of these will challenge competitors to swim 50 meters freestyle. The youngest competitors will be the first to start. They will compete in two disciplines – Tură Olimpică and Delfinul Vesel. Positive emotions and fun for everyone are guaranteed.
Then the cadets, juniors and seniors will compete. In these categories everything will be very serious. Participants will try to show their best skills. And it's probably in this part of the event that the fiercest battle will be fought.
After that, the third round, Amateur – Masters, will follow. This time, participants of all ages and fitness levels will compete. The main thing is to love swimming and want to test your strength.
All stages will be run in a friendly and relaxed atmosphere, with lots of fun for participants and their support groups. Join us at Aquatic Day! Sign up here, it's completely free. Grab your family, friends and come test your strength in the new state-of-the-art pool.